We were contacted by Morgan Everhart after she read about our story in the paper. She has an exhibit this spring and offered to donate the proceeds from an auction for one of her pieces to our wish list fun. We, of course, said yes! We were honored, and the reception is this Friday, March 21st from 6-8pm. We are hoping to attend (I have a doula client's baby due this weekend but if I'm not at their birth we'll all be there) and would love to see any of you attend!
Update: The Denton Record Chronicle had some info about the exhibit which is tomorrow night:
Artist plans silent auction to benefit Denton boy
Artist Morgan Everhart, a recent University of North Texas graduate, is having a solo exhibition at an area art studio and will auction one of her works as a donation to help a Denton boy with failing eyesight.

Everhart's mother, Diana Yensan, said her daughter was touched by a recent article about 9-year-old Ben Pierce and his family and their efforts to raise money to help him fulfill a wish list of experiences and build visual memories.
Among other projects, the family has been making and selling truffles.

An opening reception for Everhart's exhibition is planned from 6 to 8 p.m. Friday.
A mixed-media piece titled Battle of Casina will be sold during a silent auction to help raise funds for the Denton family.

The studio is at 139 S. Elm St. in Keller and the silent auction will continue through April 8. For more information about the artist, visit www.morganeverhart.com. For more information about the Denton family, visit http://thadenpierce.org.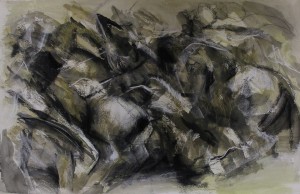 Here is Morgan's piece being auctioned: Battle of Cascina, 2013. Mixed Media 26 x 40
You can also see Morgan Everhart Studio's page on Facebook here. This was such a generous offer and we really appreciate Morgan reaching out to us!