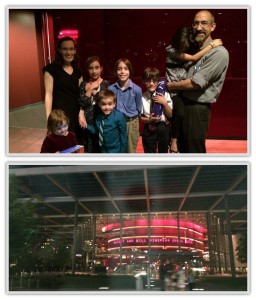 We had the opportunity to attend Beauty & the Beast on opening night as it tours here in Dallas. They're performing at the Winspear Opera House (part of the AT&T Performing Arts Center) and it was gorgeous and amazing and perfect! The entire evening just felt magical – we met up with Courtney at the concierge desk and they had booster seats for the kids and a poster signed by the entire cast. The kids were enthralled by everything – the beautiful location, the chandelier (which they said looked like floating candles from Harry Potter) and the stage. Since were were on the eighth row, it really was incredible! Courtney took them up for a peek into the orchestra pit before it began and then we all got settled. The chandelier pulled up into the ceiling, the lights dimmed, the music began, and the kids' faces! Oh, I wish you could have seen their faces. Eyes grew big, smiles ear-to-ear, I teared up seeing their reactions.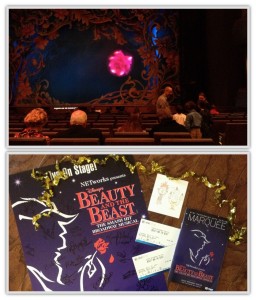 We had let them watch the cartoon that afternoon so every song seemed familiar to them. When the streamers shot across the audience the kids caught them (and another woman gave them more!) We were so close that the wolves had Livy in my lap covering her eyes, the dancing dishes had her giggling, and Belle had her entranced. Bennett was just hypnotized, and seriously – fantastic seats, he could see it ALL!
"Be Our Guest" was wonderful, but my favorite number was "Beauty and the Beast." Mrs. Potts had a gorgeous voice (they all did, of course!) and when Belle suddenly is there in her yellow gown Livy was just stunned. She had this smile on her face and when that number ended, Belle and Beast dancing around the stage, Livy leaned up and kissed my cheek and said, "I love you." How's that for a rousing endorsement from the three year old? 🙂
Some of the kids said the Beast's transformation was their favorite part, they couldn't figure out how they did it (Kit said it's theater magic.) J's favorite part was the rose and sparkles from the mirror. Mo's favorite was "Bon Jour!"
At the start when everyone came on stage singing and dancing Livy looked at me and said, "Are they in a TV?" I had to explain to the three year old that those were REAL people up there, it wasn't a screen. She seemed a bit confused by that at first, it was funny as this was her first experience with live theater. I'm sure it won't be her last, as we now have enormous fans.
We were asked how this came about, and it's a funny string. When the kids started to sell truffles to help fulfill some of Ben's wishes Amber bought truffles and shared their story in her Soma massage newsletter. Peggy from the Denton Record Chronicle saw that and contacted us about doing a story. Morgan read the story in the paper and contacted us about auctioning one of her pieces for Ben with her art show, which is how Janet from WFAA heard about us. Janet helped set up Ben's visit to the DMA for a story (which hasn't aired yet) and at the DMA we met Kimberly. She's friends with Courtney from the AT&T Performing Arts Center and after seeing Ben's wish list they offered to help make one come true. And oh, they made his dream come true beyond anything he imagined!
Thank you, Courtney and the cast and crew of Beauty & the Beast and everyone in this wonderful string of kind people helping a little boy's wishes come true. Thank you!!!
Want to see some clips from the play? They have a video from the website here.