Disclaimer, E was asked what she wanted to share about London and she said LONDON FOR KIDS but she wants you to know that she's a "strange child" (her words, not mine!) so take her advice with a grain of salt. 😀
Whenever I'm in London I like to go to museums. Some of my favorites are: the V&A (Victoria and Albert), the Natural History, the Science Museum, and the National Art Gallery.
The V&A has lots and lots of art to appeal to everyone. They have paintings from the medieval era, the renaissance, and Georgian miniatures. They also had lots of Roman and Greek statues. There was a hallway filled with ironwork, custom made banisters, window frames, and balconies.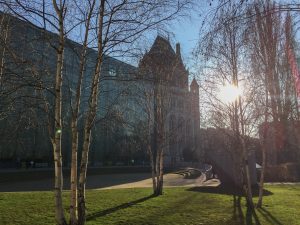 The Natural History has lots of cool stuff, but if you have little kids who are a bit squeamish you shouldn't take them. It's full of stuffed animals, not the kind you can cuddle, it gave me nightmares.
The Science Museum has all kinds of hands on stuff for kids, sometimes they have new exhibit. In the basement they have a little kids play area.
(Heidi insert – the V&A, Natural History, and Science museums are all literally across the street from each other, but each one you could spend an entire day in separately. So good luck picking! Back to Emy…)
The National Art Gallery had some Van Gogh, that's the most memorable part for me. Continue reading →