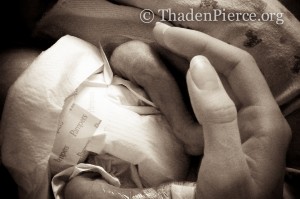 I couldn't hold Bennett for the first six weeks of his life. He was too sick, too unstable, and on a special kind of oscillating vent that meant jostling him at all could trigger a cascade of problems. While the hospital was a huge proponent of kangaroo care, in Ben's case it wasn't the best choice. Babies born weighing as little as him are just so fragile, even touching his skin left bruises. Instead we would sit by his bedside every day for hours and I would whisper to him while I touched him (gently!) and imagine the day he would be home with us. I would tell him about his big brother and big sister and how eager they were to hold him and love on him. During those long hours I would listen to the ventilator breathing for him, trying to tune out the alarms and beeps and noises and focus on willing my son to grow. To heal, to become stronger every day and to come home to us. I would picture a future when he would be healthy and thriving and laughing, chasing after his siblings and continuing to amaze us all.
I remember telling Ben that I didn't know why he came so early, I wasn't sure what the plan was here but I was trying to have faith that it would all be okay. Whatever he needed, whatever was to come, his family was ready to help him take on any challenge. I told him he was changing the world already, that his story was being shared and he was inspiring people with his determination and strength. This tiny, fragile boy was going to make the world a better place just by his will to overcome hurdles and live. Against the odds, when everything seemed so bleak, he was determined!
Today I showed Ben how his story about visiting the Apple store had been shared in China and India and how people around the world were visiting this website and hearing his story. He read through the comments you've left sharing your sweet words and encouragement. His smile was ear-to-ear, and I sat there with tears in him eyes watching his reaction as he read.
Because he can READ. He still has enough sight to read, and isn't that miraculous?
And he knows where these locations are! He showed me China and India on the map, he's a big geography fan. 🙂
But most of all he was touched by YOU, that you took the time to tell him that his story was meaningful for you to read. We've all been touched by your comments.
Bennett has no memory of those days and months we sat by his bed in the NICU and prayed for him to live and prayed to understand… but I remember vividly that experience, and the impression that someday this would all make sense. That Bennett's challenges were going to be hard, but he was going to be surrounded by love and support and he was going to make this world a better place.
This week, as we've heard about his story being shared, in some tiny way we've gained a glimpse of how that's come true. I know each of us can make the world a better place. It's been incredible for Ben to have this opportunity at such a young age to see that he can influence the world.
So thank you. 🙂