So knowing that the Harry Potter real souvenirs were running $40/wand or $35/tie I decided to pre-buy all we could and surprise the kids.
Frog Chocolate Candy Mold
– I made these up, put them in little individual bags then into a pretty star covered bag my sister sewed and gave them to the kids the first day.
Harry Potter Wand
– these were too big/bulky to try carrying on but I got three for the boys and gave them when we returned.
Hermione Granger Wand
– and these wands for the girls.
Harry Potter Tie
– I wish I had ordered more of these! I only got three and they are super cute, the boys are wearing them for Christmas. We laid them out on the boys' white dress shirts so when C woke up the first morning his tie was with his outfit.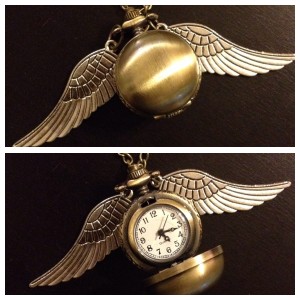 Harry Potter Golden Snitch Pendant Pocket Watch Necklace
– I got one of these for Moira and Emy and a third for C, but I should have gotten one for Ben as well. They're very nicely made (thus far, none broken yet) and help the kids with telling time!
Harry Potter Journal Boxset (3 Journals)
– I got those set of three just for the oldest kids to write about their trip. Two are lined, the third is blank pages and we gave that to Moira since she loves to draw so much.
Only yummy flavors jelly beans – since the Bertie Bott's beans are $10 for a tiny box at the park I bought this bulk jar and stuffed little bags again for the kids and had them as a surprise when we got there.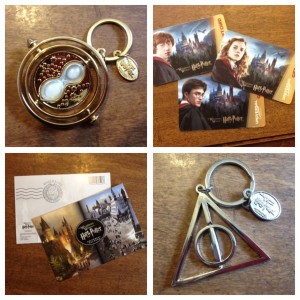 Everything came out to about $5 per item (jelly beans were $10 for the giant jar) and were huge hits. We did let C buy a patch to put on his robe at the park ($7) and he also got the deathly hallows keychain, both with his birthday money from Grandma Beverly and Grandpa Stormey. And I wanted an ornament for our tree (we try to get a family ornament each year – one from our Christmas in Germany, one from the first time we visited the Denton tree lighting, etc.) I decided on a time turner keychain, and each of those were about $13. We also let the kids put $5 on the gift cards (which they kept as a souvenir) and used that for candy and frozen butterbeers. Add in some postcards and we let each child pick two pieces of the bulk candy from Honeydukes and we got away pretty cheap! Even our family dinner in the Three Broomsticks only ran about $40, I was impressed. 🙂