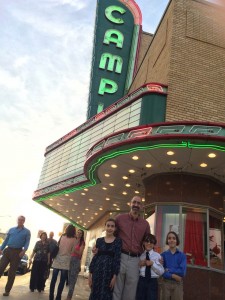 When I think about my past life in the theater, I find myself missing the feeling of family and community in the theater group. Denton Community Theatre was clearly a close family. They took us right in, made us feel very welcome, and turned a great experience into a totally amazing experience.
But I'm getting ahead of myself.
Ben was invited to our local community theater's production of Hello, Dolly. We gladly took them up on the offer. Front row seats for our little guy with a promise of a back stage tour? Yes, please! It so happened that Ben's grandmother was in town from Kansas, so while Heidi bravely stayed home with the three little ones and her father, I took the three oldest with Heidi's mother to see the production.
Julie had sent us an email with instructions to ask for her when we arrived at the historic Campus Theater. We did so and expected to be started on our backstage tour, but not before Bennett did something first. He asked for his own tickets at the will-call booth. He was a little shy, but managed to get the task done.
Finished, we checked into the green room where the actors were chilling before their warmup. First off, the green room is actually sort of blue, but we forgive. The actors all said Hi and were very kind to Ben. There was even a man in the cast who is completely blind, but was still able to do his thing on stage. Ben though that was particularly cool. We met Irene Malloy and a man we all mistook for Horace Vandergelder, but he quickly informed us that we was just part of the chorus and scooted off to look for Horace. He happened to be in the warmup circle, which they paused just so he could come over and say Hello to Ben, insisting he wasn't really as mean as Horace in the play. I agree. He was very warm.
We were able to check out the inside of a dressing room, and even snuck onto backstage to see the set while the 14-piece band warmed up. Before we took our seats, the kids were taken up to the old balcony of the Campus Theater to see the prop storage. As it turns out, the building couldn't accommodate patrons on the balcony due to modern fire code, but it's a great space for storage. I think this was the kids' favorite part of backstage. Swords, boats, pictures, a drawer full of kazoos! Pretty much anything you could think of and many things you wouldn't were stored up there for the next time they might remotely need anything on stage.
Then it was time to take our seats.
The Managing Director of the theater introduced the play (as managing directors often do) and among other things, informed the audience that the director of the evening's play was in fact our tour guide. He also had Ben stand up and led a huge round of applause for the little guy getting his wish that evening. Ben was clearly self-conscious, but he braved his way through it.
The show itself was really good. Very entertaining, and between the professional performances by the actors and the live musical accompaniment, I enjoyed the play far more than the movie. Everyone was laughing and tapping along with the entire show. Top notch job; I'm sad Heidi didn't get a chance to enjoy it. I think she would have very much.
After all was said, every song sung, and the actors took their bows, the main actress started to walk off stage, took a few steps, turned around, and came right to Bennett and shook his hand. She asked him how he liked the show, and Ben was completely gobsmacked.
This is the kindness I'm talking about. Those people up there didn't have to care about a little guy in the front row of the theater, but they did. After their curtain calls, several of the actors made eye contact with Bennett, waved, gave him thumbs up, and he was just gasping in shock that those people who in his mind were famous — they simply had to be because they were up there on that stage — were acknowledging him and his participation in the audience that night. So sweet.
Thanks to Julie and all of the cast and crew of the Denton Community Theatre for making this an unforgettable night for our family. You guys are wonderful.