Entry:
I looked back and saw the two of them walking along swinging hands – the big kids were so good about looking out for the little ones.  Not that there's a big age difference between our 8 and 7 year olds.  🙂 It's just always sweet to catch them being affectionate with each other – I hope that never changes.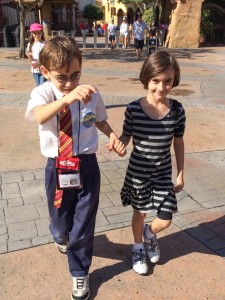 While I knew the older boys were thrilled about this trip, I was actually surprised at how incredibly enthusiastic the little guy was about everything! He wins for biggest grin in the photos, as opposed to the poor older kids who just wanted me to stop already with the pictures and let them play!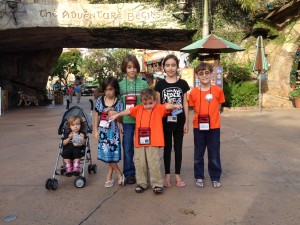 We raced straight through to Harry Potter world when we got there at 8am but we stopped on our way back to check out the animals and fun at the port of entry. It was funny to me that with these massive rides and crazy, loud shows that the kids could be so excited about a little non-moving tiger they wanted to sit upon.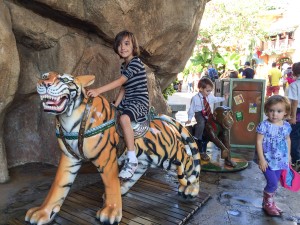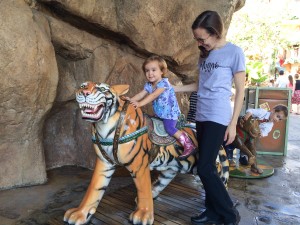 Dr. Seuss land – the only comparison I have is Six Flags (which I've attended once in 2013 and the previous visit was in 1993!) They have a kid area at Six Flags but it's not much, and this area at Universal was fantastic! The trees and rides and everything, the kids were enthralled. The Cat-in-the-Hat ride was the biggest hit, closely followed by the carousel. Even Livy was in love with the Cat ride and went on it at least four times – I could stomach it only once. 🙂 There was also a character show we caught and photos after, though C was a bit too mature for it (he did get a photo with his favorite character, the Lorax) but the rest of the kids loved it. We took the photo of the big kids with the Thing shirts when Kit was taking the littlest two on the Cat ride for the tenth time or so.
There's a tucked away area to explore just to the left as you walk in – we went on the last day and found there was a great splash pad area but it was too chilly then to get wet. And throughout the park there were little splash areas if it was too hot and we enjoyed those the first couple days.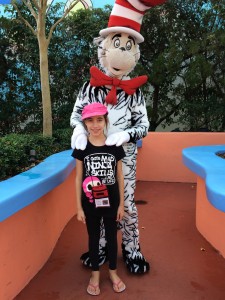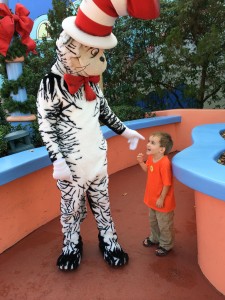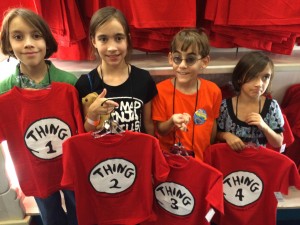 Jurassic Park – the kids have NOT seen Jurassic Park, they just knew this was dinosaur land. The first two days were gorgeous – 80 degrees, day one was sunny but day two was cloudy. Day three we woke up and it was 20 degrees cooler and windy! The gusts were so strong that they closed down one of the rides, and we got video of the palm trees blowing here in Jurassic Park (theme music playing!) like in the movie as the storm blew in – which I laughed at but the kids didn't understand at all.
Livy was in love with this dinosaur in the gift shop which we had to peel out of her hands – she was hugging and loving on it and calling it her baby. We explored downstairs in their discovery zone where the kids watched scientists in lab coats observe a baby raptor egg hatch. (Though our skeptic E did loudly announce that it was not real, something she also was disappointed by with the singing frogs at Harry Potter world.) There's also an outdoor explorer zone with rope courses and waterfalls – thus B's big grin and arms up, as seeing a waterfall was on his list. (The one by the log ride was more impressive but I didn't get a photo there.) So even if they are man made waterfalls, he was really excited to see the rushing water, to walk behind/under one, to explore the "caves" and to hear the roar of the water.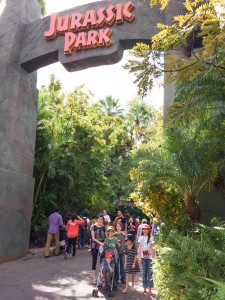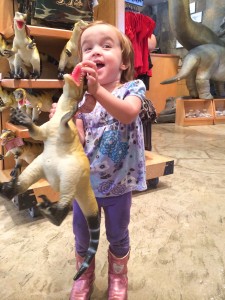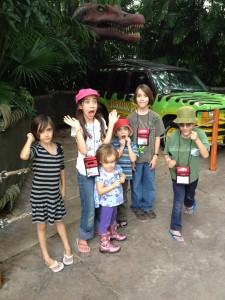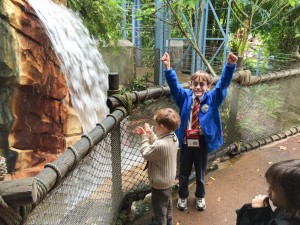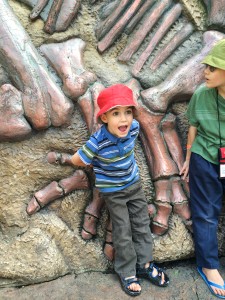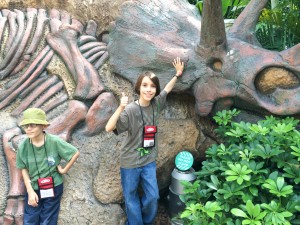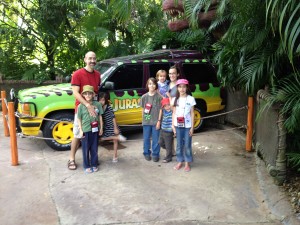 So our scary adventure in Jurassic Park was that we were finishing up dinner and E decided we were more done than we were and headed towards the front. Kit saw her and called after her but she walked out and he lost her in the crowd. He ran back to tell me, we called security, and long story short – she approached a mom with a baby to explain she needed help, they told security (who was already looking for her) and the radioed back to the security guard with us to let us know she was found. It was about 8 minutes from when she walked out to when she asked for help and they told us but was at the FRONT of the park, she got so far – it was terrifying and heart stopping. Poor Mo was sobbing with worry about her sister and C sat behind Mo and wrapped his arms around her and started doing the cross tapping! (It's a PTSD thing to help with processing trauma.) It was so sweet!
Two workers from Jurassic Park heard the radio call about the lost child (they called to all workers) and they left Jurassic Park to go looking – they caught us as we ran past with the security guard and said she was found (I don't know how we missed the message) and explained they were both moms and when they heard they left their spots to go search for us. I wanted to hug them both, it was so kind. Kit ran ahead to meet Emy and bring her back to us and as we were walking (I had the other five kids and it was dark by now) the two employees were telling me, "Now we know you're upset but she's scared, too, so just remember to hug her first," and it made me realize they probably get lots of lost kids – and lots of angry parents. We weren't angry at all, E's barely 7 and was not at all trying to make us crazy or terrify us, she just got in over her head and we were just SO THANKFUL she was okay and safe and approached a mom with a child like we told her.
Though the other kids and E were sad because we had been heading to get brownies for dessert when she got lost and now the park was about to close and they lost their chance to take a ride. The worker called ahead to the ride and told them to bump us as VIPs so the kids could ride! And then ran into a restaurant and came out with three HUGE brownies for the kids to eat – it was so, so kind.
We also learned that employees from other parts of the park aren't allowed to step into Harry Potter world if they aren't in the appropriate costume! So the Jurassic Park workers couldn't walk us to the ride, they called ahead to a "villager" in Hogsmeade who took us. (Everyone in HP world is in Hogswart robes or villager costume for Hogsmeade.) The HP employee sat with us to make sure everything was okay and we were all settled – truly, they went out of their way to make sure we were doing okay and left with a happy experience. And we did! We tried to really downplay it and we checked on Mo afterwards and everyone was okay.
Super Heroes – I don't know much about these super heroes, I've heard of Spiderman and some of the X-Men but Kit had to fill me in on the rest. They do a little grand entrance riding in on these motorcycles and "fighting" a bad guy whose name I forget. Then they pose for pictures with the kids and I was really surprised that when E wanted to meet the girls that Livy was enthralled. She acted shy and just waved at them the first day but when we returned the second day the woman rode up (Rogue) and saw Livy right on the side (we got great front row spots) and her face just lit up and she waved at Livy. I thought maybe it was just her being friendly to the whole crowd but she hopped off and ran right up to us and said, "HI, I remember you!" and Livy yelled, "MY SUPER FRIEND!!!" and was so happy to see her. They compared boots and chatted about Texas and being three and super powers.
The next day the first thing in the morning Livy woke up and said she wanted to go see her Super Hero friend. We went there and much to my horror we saw it was another woman! I hoped Livy wouldn't notice and the lady was so sweet but she didn't convince Livy – so we then had to deal with tears and the saddest little girl asking where her REAL super hero friend was. She's right now sitting by me asking to see Rogue again – I was cuddling her last night and she hugged me and said, "I love you, Momma. I go see Rogue?" Though I liked Rogue because (a) she made my kids feel like super heroes by remembering them and spending so much time talking with them when there was a long line of people waiting for pictures and (b) she said their mom is a super hero because she's got six kids. 🙂
Ben got photos with Cyclops because as he told Ben, "Kids with glasses are COOL!" With long lines for photos (which somehow we managed to avoid, we always seemed to start as second in line) I was really impressed that all the workers would kneel down and talk with the kids for a few minutes before posing for the pictures – it wasn't just hold still, snap, go. They asked about where they were from, their names, if they were celebrating anything special, what they liked most. It was sweet!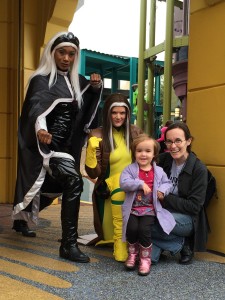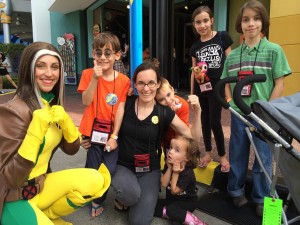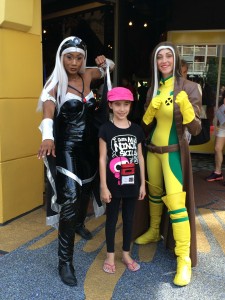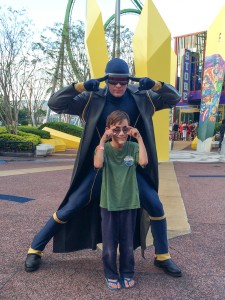 Lost Continent – we called this Percy Jackson world. 🙂 Though it's not officially that, it had Poseidon's adventure and the voyage of Sinbad and a neat magic show (very impressive!) and the big hit – the talking fountain. They had someone sitting there watching on video with an impressive microphone because even little Livy's whispers could be heard by whomever it was responding. He/she would ask the kids questions and squirt them with water, burst out with water and music if they got it right, and have fun conversations with each child. The kids all wanted to go say good morning to the fountain first thing (you pass through here on your way to Harry Potter world) and come back to say good-night on our way back to the hotel. They loved it!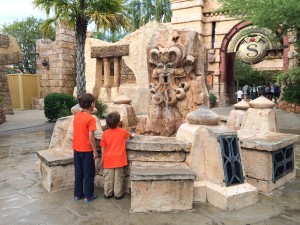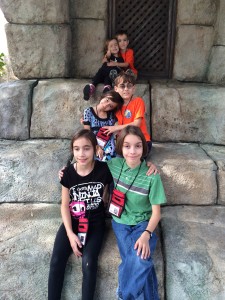 This is Mo with her red velvet cupcake – the food passes were great for the kids. Each pass through the line they could pick an entree and dessert or side, though eventually the people would see us coming and just give the kids whatever they wanted. Three brownies? Sure! Four cheese pizzas? Here you go! I ordered the stir fry with rice and the cesar salad and various attempts at healthy food but after a couple days we were all ready for some "real" food again. The kids' meals come with grapes and carrot sticks, the adults can order the salad but that's about it for produce. The other items were pizza, burgers (we did get veggy burgers), fries, onion rings, there was corn on the cob and mashed potatoes (we just had them leave off the chicken) and alfredo or spaghetti – but we missed real salads and food. 🙂 Our last day we ate at the Three Broomsticks in Harry Potter world and they had more salad options, baked potato soup, fish & chips, and butterbeer for our last supper (not on the meal plan, but their dining plan has changed in case you are visiting – it's no longer the all you can eat one, and there are more restaurants you can choose from which presumably have some other options.) We didn't try it but in the lost continent they did have vegetarian kabobs and hummus, we just didn't stay there long enough to try it. There are restaurants out on the City Walk just outside the parks but the kids didn't want to leave the parks. There are also real restaurants at the hotel but we only tried the sushi there.
And Livy took a nap in her stroller all three days. She slept HARD, and I'm so thankful to Shannon for loaning us the umbrella stroller! The rest of the kids handled the miles and miles of walking great, but our littlest needed the ride. Kit did extra mileage than us since he looped the park on the Emy search and had an unexpected trip back to the hotel when Heidi forgot the meal passes one day (oops!) but he was there and back within 30 minutes including stopping to pick up a wand we had ordered and sent up front for later pick up and getting searched randomly on the way back. But his pedometer said 26 miles of walking!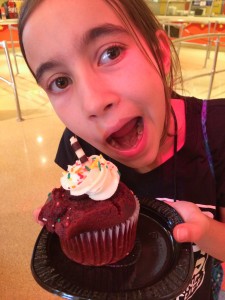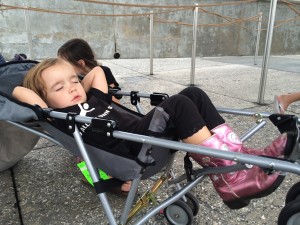 Random tips – the official answer is you cannot bring in lunches/meals but you can bring in snacks, and our first morning we had "pumpkin pasties" for Harry Potter world (pumpkin pop tarts) for the kids to snack on when we did early entrance, and granola bars and trail mix when they were feeling snacky. You also cannot bring in drinks unless it's sealed water bottles OR empty water bottles (no sneaking in liquor) and we use brought in the stainless steel water bottles. You can fill them with ice water at the restaurants or use the less cold fountains around the park. We had a backpack with us with hats, sunglasses, a change of clothes for Livy (the splash pad jumper) and snacks and a baby carrier (for when Livy wanted to be held and J wanted to ride in the stroller.)
More to come!