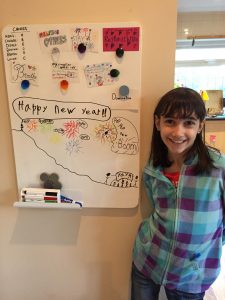 One of our LAGOM goals was that our kids use a lot of paper for school work and art – they love to draw, which we love! But I hated how much paper we were recycling because of it. This VEMUND board lets me have a larger surface to write out things for the kids when we're doing lessons. When not doing that, the kids can use it as an art board with the colored dry erase markers (and I can write boring stuff like chores.)
Next up – our little sproutlings! We just got them started amidst the holiday madness and they're ready to be transferred into their larger pots already. We're so excited about having this growing source – the kids picked several herbs and rocket… Gardening indoors has been a great science & nutrition lessons, and should help with grocery bills as well. Here's the VÄXER line we're using..
One of our other LAGOM projects has been redoing our pantry with new FILUR containers so we can better inventory and see what we have, what we need to restock, and what should be used up sooner than later. That's been a huge help!
Another LAGOM investment, we purchased vacuum seal storage bags – because we've many little ones we want to save and reuse clothes as much as possible. We've been fortunate to have many friends also pass on clothes their kids have outgrown, but storing those clothes when they're between kids is an issue. The storage bags let us shrink down clothes and keep them in the closet until we need to rotate them for the season. Plus the kids think it's hysterically fun to pack the bags and see how small they compress with the vacuum. It's a weird entertainment. Here's the HADJEBY line.
We are also reading up on composting this spring and have a STRAPATS container for it. In our old city we were part of a pilot composting program but they brought us bins, we filled them and they came back to pick them up. The compost was used for city gardens that helped the food bank, but here we would be composting for our own garden so we need to learn more about how to implement that!
As we get further into our growing project we'll post more photos, and I'll get some pictures of our lovely and reorganized pantry and clothing storage. (It's not really lovely, but I'm happy about order being found amidst the chaos!)