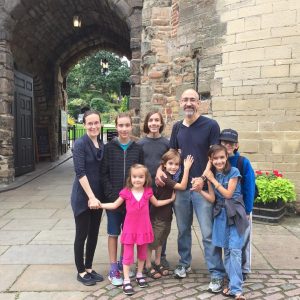 Last fall we moved from Texas to England. As we settled into our new home we were receiving IKEA emails & one caught my eye about the idea of LAGOM – Swedish for the idea of "the right amount is best." You can read more about it here. It felt like a perfect way to help us with this major life reboot as we start from the basics and decide what our home and lives need, what we want to change, and ways we can be more aware of "the right amount" in what we use.
We were accepted into the program & attended an in store orientation, then two of the IKEA team came out to our home for a visit and to talk over our New Year goals to make our lives and home more LAGOM. The idea appeals to us on many levels, though we didn't have a word to describe it until now. In the home we own in Texas we had been doing many of the suggested practices already. As a family it was something we weren't always perfect at, but we try to install this value in our children to be mindful of our consumption, and a responsible member of the community and planet. (Yes, even in high school I was an officer in the environmental club. I think that means I'm officially a tree hugger.)
But part of what LAGOM wants to promote is that you don't have to be a tree hugger to make small steps in your life that can be better for you, your finances, and your community. It doesn't have to be expensive or time consuming or boring – it can be rewarding, and fun! We've incorporated it into our home educating lessons as well, and had the kids write up their lists of ways we could be more mindful as a family. Our goals were:
* herb gardening and composting
* cooking more from scratch, and better organizing our pantry
* cutting back on the amount of paper we use for homeschooling
* finding storage solutions to reuse kids' clothes
A few of the suggestions that our home visit team mentioned are relatively inexpensive and can make a big difference in older homes – here are some we're working on already that you can try, too:
* switch out your light bulbs for LED
* line your drapes OR add blinds to the window to conserve heat
* change out faucets to get similar flow but with less water
* use a shower timer to be mindful of how long you're in there (I am so bad at this.)
* write a menu so you are more careful about shopping, baking, and planning leftovers for future meals
* rugs, fuzzy socks, slippers, and soft throw blankets can make the winter more bearable
* invest in rechargeable batteries
* windowsill gardening can be simple, inexpensive, and healthy for you no matter how small your space
After our store visit we'll share with you what we are getting, and how it's helping us towards our LAGOM goals!