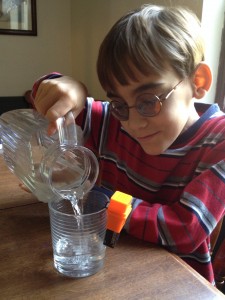 Today we met with our Vocational Rehabilitation Teacher from the Division for Blind Services. Ben really likes him (and wrote him a note saying so using his new special guide line clipboard and dark pen) and we'll be meeting with him monthly in our home. Next month the plan is to make brownies. 🙂 Tough job… In January B, C, Kit and I will begin learning braille.
The brownies plan is because Ben needs to learn cooking without looking. (Isn't that catchy??) Which I will probably need to NOT be in the room for because the idea of Ben reaching into the oven makes my heart race. Today they practiced pouring a cup of water with the special sensor that tells him when it's full (which should prevent many meal time spills!) and he also gave him a special 400 degree oven safe super long oven mitt.
We're processing lots. The teacher also got B signed up for the Texas Talking Book program, and gave us some great resources. Just lots to wrap our mind around.
This photo is neat because normally Ben has to lean in super close to see how high the water is – with this "Say When" beeper he knows it will beep (LOUDLY!) if the water is too high. And anything that makes him feel more confident makes me happy!