Last summer we were contacted by someone offering to help make Ben's Grand Canyon wish come true. Now we had pondered how to make that happen, and discovered it was a 16 hour drive one way. Which I was willing to do, because I knew it would be epic and memorable and it was REALLY high on Ben's wish list. (I didn't realize he was ranking items, but apparently he was.) However, when this incredibly kind person contacted us and explained what his family and two others wanted to make happen for our family I just cried. Not only because it meant I didn't have to spend 32 hours in the car with my children, but because it was so unbelievably thoughtful and generous! The way he explained it, he's seen many places around the world but the Grand Canyon is one that words cannot do justice. (I loved that explanation!)
So with some fantastic advice from these sponsoring angels and coordinating of schedules and reservation juggling (apparently the Grand Canyon lodging books up WAY in advance!) we set something up, with much help from big hearted strangers reaching out to us. Ben was SO EXCITED!! He said he knew it was big and it was pretty, but he wasn't sure what exactly to expect.
The plan was to fly from DFW to Phoenix, we were being greeted with a van to get us up the 4 or so hour drive to the park where we would spend a few nights then head back south. Things went beautifully, the kids were darling on the flights, and thanks to our benefactors we had travel tips galore.
Heading north we stopped for a couple adventures, such as Montezuma Ruins and a highly reviewed gyros place in Flagstaff.
Some funnies (or not so funnies) once we arrived at the park – there were warning signs about the dangers of trying to hike from the south to north rim in one day. They had photos of a young, athletic looking guy that talked about how many hikers they have to rescue every year, and how most of them look like this overly confident guy. They also had large signs about not feeding the squirrels because they may have the plague?? The kids thought that was hysterical – plague squirrels. (Though in real life we assume they are not funny.)
We arrived at our hotel after dark, so Ben didn't see anything yet. We woke up in the morning to go meet Les, our cameraman, and we discussed the best way to capture Ben's reaction when he first saw the view. I loved seeing all of the kids' reactions – Kit nor I had ever been there, either, so I think we were all blown away by the magnitude of the canyon. It really is indescribable.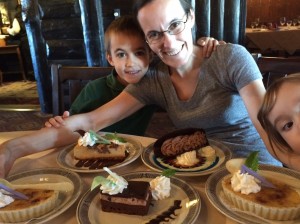 The kids picked up junior ranger booklets and worked quickly to try and earn their badges. It was a great science lesson, and I loved how it helped them get even more engaged with looking for different types of rocks, wildlife, etc. We dined at El Tovar restaurant (it was highly encouraged) and it was SO GOOD. The kids' menu came with a coupon on the back for an ice cream cone (you can imagine how much they loved that!) as well as a spot to visit certain places around the Grand Canyon and collect stickers.
When you first walk in there's a beautiful display with the desserts. They looked delicious and I couldn't decide on any one so we ended up ordering six. They put them all in front of me, and I told the kids I was going to eat them ALL. The chocolate taco filled with mousse served with a raspberry sauce was my favorite.
In the evening we went on the sunset bus tour. Funny enough, kids 16 years and under ride FREE! So while Kit and I bought tickets, all the kids were free. They stopped at various lookout areas and told us a bit about the history and plants and stories (and how many people have died in the canyon over the years!) and then we stopped to watch the sunset. It was stunning! Ben also had a chance to use his eSight there (which I posted about here.)
For dinner we picked up a pizza at the restaurant near our own hotel, and the kids used their ice cream coupons there as well, then we tucked them all into bed.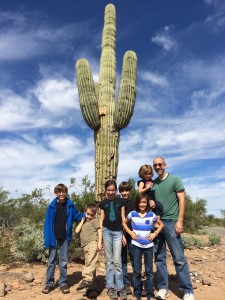 The next day we headed a bit south of the canyon to take a helicopter ride! We had a couple kids hesitant at the last minute but everyone got strapped in and away we flew. It was as amazing as you would expect a helicopter ride over the Grand Canyon to be. Then we headed back into the park for more exploring and a geology lesson and we decided we really needed to eat at El Tovar again! And get ice cream coupons again. Because kids need more dessert, right??
The last day we drove back down to Phoenix but we stopped to get a picture of the ginormous cactus.
We flew home, with beautiful photos and timeless memories. Ben says it was even bigger and prettier than he imagined, and it's something that really is impossible to convey unless you see it firsthand. So go see it!!