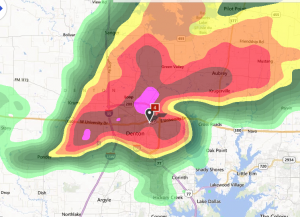 It's been a busy couple weeks. We had an insane hail storm one day and after it passed we took the kids to their adaptive PE program at UNT. While there the second wave of the storm hit along with the tornado warning and funnel clouds near campus – complete with loud sirens and us spending half an hour in the tornado shelter with six very anxious kids and about 100 university guys all crowded into the men's locker room. It was an adventure! Unfortunately our car and roof didn't enjoy the storm, and later that night a THIRD wave of huge hail hit. Quite the day (still working on getting the car and roof repaired.)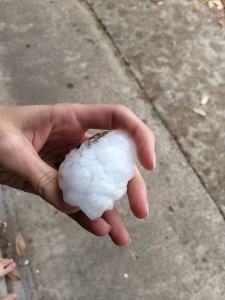 When we woke up in the morning there was a series of emails from my father sharing the news that my grandmother had been taken to the hospital with some concerns (she had surgery last month but was back at her assisted care center.) I saw there were several more emails and my stomach sank as I read through them, including that she had been admitted to the ICU, put on oxygen, and the last message shared that she had passed away just before 3am. She turned 91 at the end of March so she was elderly, but it just seemed to come very quickly! We called my dad that morning to find out plans for her funeral service, talked with my sister and Kit's work, and within a few hours we were packing and getting ready to leave the next morning to take 10 kids and 3 adults from Texas to Minnesota. All while being swarmed by roofing contractors wanting to pressure us to sign and have them fix our roof.
Early, early the next morning we headed out to drive the 9 hours to Kansas to meet up with my parents and stay a couple days then to do the 6 hour drive the rest of the way to Minnesota. We stayed a couple days there seeing extended family, as I had not been to Minnesota in over 20 years! The kids had a really fun time exploring the farms and behaved (for the most part) really well through the funeral service and burial and the constant changing schedule. I'll have pictures of that to come, along with a few adventures we've already had since!