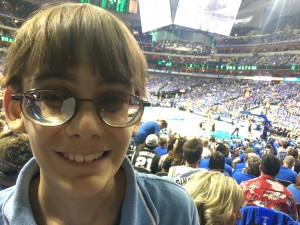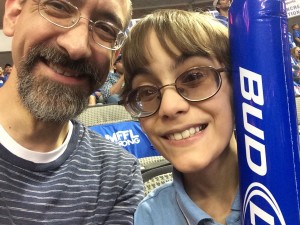 I had the opportunity to take Ben to not one but two professional sports events in Dallas.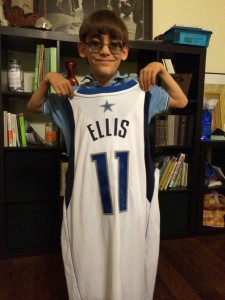 First up, he received a pair of tickets to game 4 of the 2014 NBA Playoffs featuring the Dallas Mavericks vs the San Antonio Spurs. Short story, the Mavs squeaked out a win in the last minutes of the game forcing the series to go into game 5 to the Spurs home team advantage. Exciting game!
But the real fun was soaking in the sights and sounds of a Ben's first professional sporting event. Seriously, what sounds! Every chair had a noisemaker of some sort in it, and though it was Ben's first game and he didn't know any differently, this was the rowdiest, most rambunctious sporting event I've ever attended. Ben loved it!
This was also the day after our first story aired on WFAA Channel 8, so Ben was being recognized by many many kind people offering Ben some of the freebies that were in the seats for the fans. The nice woman at the concession stand even gave Ben a jumbo Slurpee on the house. The Mavs made a new young fan that day. He still wears his freebie fan shirt around. It's a lovely shade of blue.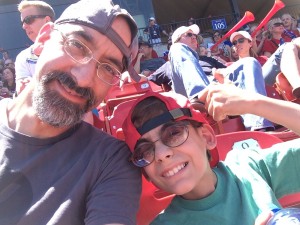 A couple days after that, a friend of mine who works with the PR department for Dallas' local pro soccer team, FC Dallas, got us into a game vs the NY Red Bulls. Besides Ben, I also took Mo and C to the game. I think they all especially enjoyed this one: they all played in a junior soccer league in Denton for a couple of seasons. While we don't watch many pro sports in our house, they actually played soccer so they understood more of what was going on down on the field.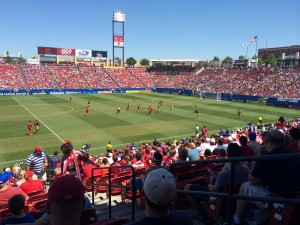 The real fun was up in the stands, though. For every bit as rowdy as the Mavs fans were, the soccer fans were doubly passionate about their home team. After a couple of legitimately bad calls by the ref against FC Dallas, the kids were introduced to some new words prompted by the FC Dallas spirit squad and chanted through the stadium.
The home team lost that day from a last-minute penalty kick, but the kids got a 99¢ refill with the jumbo Slurpee cup Ben got at the Mavs game, and everyone had a lovely time.
Our many thanks to the Dallas Mavericks and FC Dallas support staff who heard about Ben's story and worked to give him some wonderfully fun memories.