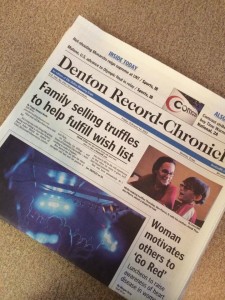 Having never imagined they would make the front page of the paper, the kids were not well stocked for the amount of truffle demand for Valentine's Day! However, they are now taking pre-orders for the St. Patrick's day batch. They'll be available for pick up at our place in Denton the weekend of March 15th, 16th, and 17th. They'll do a mint and a chocolate cheesecake again. The large boxes are $5 for 6 truffles, little boxes are $2 for 2 truffles. You can order by emailing me (projects@thadenpierce.org.)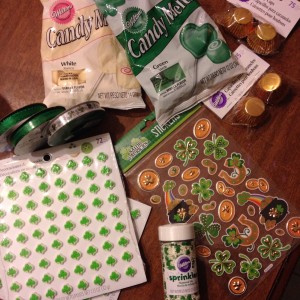 Here's a peek at the supplies they picked out for these cute treats. Contact me to place your order, get our address, and set up a time to come by – you can pay when you get them. They will not be making truffles for Easter, but they will have some for Mother's Day (May 9th, 10th, 11th) if you want to place orders for then. Oh, and don't forget they are making the ciabatta bread if you want to swing by and get a warm loaf for dinner.
THANK YOU for your support – this has been such a neat experience for the kids, and you're helping make their dream come true!
Wonder why a bunch of little ones are selling truffles? You can read about Ben's story here and you can read Ben's wish list here.