We've been absolutely blown away by the response to the kids' fundraiser! After their story was shared in the Soma Massage Therapy newsletter we were contacted by the Denton Record Chronicle and the kids ended up on the front page of the newspaper! They had hoped to sell maybe five boxes of truffles, as they calculated that would earn them $25! Which seemed like so much to them. 🙂 After the story came out we had to restock and they spent all day making truffles and still sold out. Thank you! They've started a pre-order list for their St. Patrick's Day truffles which you can join by emailing me (heidi@thadenpierce.org) In the meantime they're going to continue selling ciabatta bread if you would like to try that!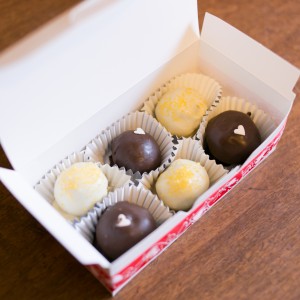 Looking for something delicious for Valentine's Day? We've got you covered!
C & M are making truffles! These are hand rolled and dipped and they are fantastic. Rather addictive, be warned. They'll be wrapped up cute in a gift box and perfect for sharing with your valentine. (Or eating yourself, we don't judge.) Options include:
* Chocolate cheesecake.
* Peppermint chocolate.
* Chocolate orange.
We'll have a limited number as these require time and attention to make. You can pick up on Thursday, Friday, or Saturday (February 13th, 14th, or 15th – in case you are celebrating the day after.)
Pictures to come of their test run – I've been making these for years but this time the kids will be making them with my close supervision. 🙂
Packaging options:
The bottom larger box holds six truffles and is $5, the little boxes on top (they look big, but they're really not) hold 2 truffles and are $2 (but we have a limited number of them):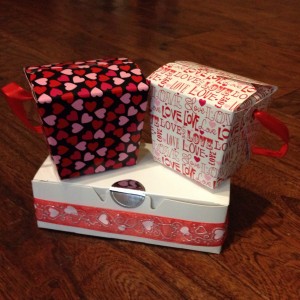 These also hold two and are $2 (and we have more boxes of these):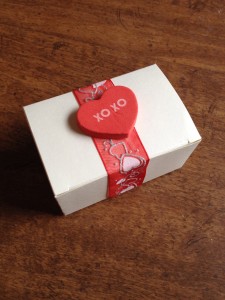 E hard at working measuring ribbon & the kids' first order ready for pick up:
The little buddies hard at work stuffing boxes:
Thank you again for all the support! It's been a wonderful experience for the kids. I can be reached at heidi@thadenpierce.org if you want to place an order for next month or have questions.
Video from the DRC link above: