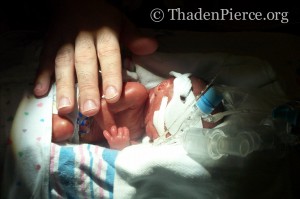 Bennett was born at 23 weeks gestation weighing 1 lb 6 ozs and was 12 1/4″ long.
Here is his Homecoming Movie. I recently shared some thoughts here about my pregnancy with him – The Boy Who Lived. And if you want to see a 22 ounce baby…
To summarize his NICU stay, he was in 109 days. PDA surgery at 10 days, ROP surgery at 2.5 months, double hernia repair at 10 months. On high frequency vent 6 weeks, few days on nitric, PIE resolved (short course steroids) but no chest tube, conventional vent month, CPAP two weeks, 2 days steroids weaning off vent, home on 1/4 L. oxygen (off and on, off up to month at time) until 10 months/6 adjusted. His neural ultrasounds in first couple weeks were all clear but at month he had Grade I bleed on left side that appeared to be resolved at follow up scans. He had couple infections in NICU but after the PDA & PIE thing in the first three weeks, he had a relatively uneventful stay and never gave us reason to believe he wasn't going to stick around. It was a month after he came home that he had a two week PICU stay with RSV in July, on vent there and ribavirin, when 5 months/1 month adjusted – that's when it seemed we were going to lose him, but once again he amazed everyone and pulled through.
Once home Ben received speech, occupational, physical, feeding, and vision therapy services for several years. We enrolled him in programs for adaptive PE & swimming and a therapeutic horseback riding program. He received follow up care from his pulmonologist, retinal specialist, ophthalmologist, a CP clinic for assessment, and his pediatric surgeon (for another surgery before he turned one.) His NICU discharge doctor continued as his primary care doctor for a few years before discharging him to our pediatrician.
Update January 2016, shared with his permission: Ben is now 11 years old! His gross & fine motor skills are age appropriate, speech & hearing are normal, social & self help skills are appropriate. Lungs are totally fine, he gets maybe one cold every other year. He does the swim & PE program with all his siblings. He has no cognitive or learning issues, he is diagnosed as having ADHD. He's a voracious reader and his math skills are at level, he writes poems and stories, he draws pictures and sings all the time, he's affectionate and funny.  He's amazing.
His eyes are a challenge. Because of this we're getting some services to help with skills made more complicated by the vision changes, like cooking or crossing the street. We've been encouraged to help Ben see a variety of things as his eyesight declines. To help with that he's created a wish list of places to go and things to do!