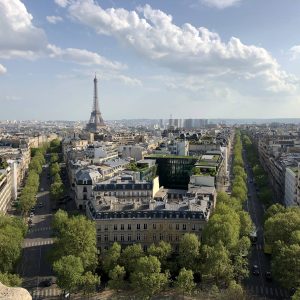 My first trip to Paris I was with a french club when I was 12 years old and we did the standard spots, which was enough to make me fall wildly in love with the city. While my parents were living just across the German border from France I was able to visit a few times more with friends & family, either by bus or driving but again – we mostly hit the highlights* tour. Kit and I visited with our firstborn & my husband's wish list to see was a palace, a cathedral, a museum. He didn't especially care which, as he likes to travel slow and meander as he feels so inclined. It was December, we had an active (running!) toddler, and it was cold so our trip was dictated by those parameters – but also so, so wonderful as I got to share a place I love with the person I love most.
* Highlight tours include Notre Dame, the Eiffel Tower, the Louvre, the Arc, and maybe a couple drive by spots like the Opera House or Sacre Coeur. Longer tours may include a day trip out to Versailles. Not that any of these spots don't deserve an entire day to themselves, but tour trips tend to be quick and cramming in lots.
When Ben's wish trips began I had a dream about Paris and when we had the opportunity to visit London we hopped the two hour train ride down to Paris with our kids. I was thrilled that they seemed to enjoy the city as much as I did, but it never feels like there's enough time to fit in everything I want to see. Since our move to the UK we've been very fortunate to make a couple more trips down and see things we hadn't on our first visit, and things new to me – like I hadn't been to Versailles yet! On one of those trips we had friends meet us there and bring me to places that were new to me, but some of her most favorite.
Then I saw a video online about a new exhibit in Paris and I knew I was going to find a way to see it. Fortunately that same friend also wanted to go and was up for an adventure so we met in Paris for four glorious days. (Paris at your own pace vs. Paris with children in tow is pretty significantly different, as you can imagine.) Once again my friend introduced me to new spots, which made them all the more special, and we were able to wander slowly and it was just amazing.
So, after however many trips that is I'm compiling my list of the spots in Paris that you must NOT miss… not that you should skip walking by Notre Dame (still beautiful after the fire) or the Louvre, but you know those spots and you'll no doubt fit them into your trip. These are the ones that you may not have considered that YOU NEED TO GO SEE.
*If you are going this year, go see the exhibit that prompted my visit – Atelier des Lumieres Van Gogh. There's just no words, if you are a Van Gogh fan then GO. Technical stuff – it's 40 minutes long, then there are two mini shows after (10 minutes and under 5 minutes) so the entire display is 1 hour total BUT you can stay for a repeat, they don't usher you out. Do go when it opens (we did 10am on a Monday) or call to ask their quieter hours, as by 11am the room was getting packed. Do NOT sit in one spot, you must walk around (be warned, you may get motion sick as there's movement on the floor) and do bring headphones for anyone with noise sensitivity (there's a variety of music throughout, some in minor key if you have kids sensitive to that.) If you're staying for a second round then consider going up to the balcony, as it's a completely different (and less overwhelming) experience if you're up there looking down vs. on the ground floor immersed in it. Both perspectives are worth having, but we found that being below was intense so we sat up top for the second round of shows. I cannot convey how intense and overwhelming in a good way this was!
*See Notre Dame, but actually go inside and visit Sainte Chapelle which is just across the way from Notre Dame on the same island. You must pay for it (vs. Notre Dame, which was free when it was open) and it's MUCH smaller, but it's stunning. You need to see that stained glass. (Kids are free.) It won't be a long visit, there's one massive room really but bring a sketchbook or journal and soak it all in… it's just fantastic.
*Walk by the Louvre courtyard & glass pyramid fountain, but you don't need to go inside unless you've got something on your list you desperately want to see there. (I do love Winged Victory and that's worth a visit.) BUT, if you continue walking through the gardens away from the Louvre then you'll hit Musee de l'Orangerie which has Monet's Water Lilies – the building was designed specifically to display those pieces, in two oval rooms. Go during their quiet hours (they have it on their page) – we went first thing in the morning and had no wait and the room was almost empty. (It can get packed.) The rest of the museum has great pieces, of course, and it's a much smaller one than most others in Paris which is good for little kids getting antsy (then go back out and let them run around in the gardens.) But even if you don't set foot in any other room in the building, go inside and see the water lilies. (Kids are free, if you go by Eurostar train you can get buy one/get one free adult tickets.) Again, this won't take long but just walk through each room slowly, then pick your favorite of the eight and go sit. Just sit, and soak it all in.
*If you're feeling really, really patient and you planned way in advance to book online then you could go up the Eiffel Tower OR you can skip the insane security and lines and wait time and instead go visit the Arc de Triomphe which you can go to the top of and see a gorgeous view of Paris including the Eiffel Tower in view! (It's also less expensive, fewer steps, way fewer crowds, and we had almost no wait time.) The photo above is one I took from the Arc, and you can quickly walk from side to side for views every direction. (Kids are free.) This was the most joyous, fun, forever view.
*If you have enough days and want to leave central Paris then Versailles is beautiful and where most tours go – but wow, it's packed like few other places I have ever been. If you have any issues with crowds, being compressed, Disney like wait lines without the fast pass option, not wanting to lose your kids, sensory overload… then I would skip the palace itself, and head straight for the gardens. Truly, the hall of mirrors is fantastic but you can see a version of it in Bavaria without the crowds so I took my kids there and they thought it was identical. We did do Versailles palace, but we plan to return again for the gardens and skip the house. Instead of doing Versailles at all, I would instead take the train to Giverny (comparable travel time but it is train instead of metro/local rail) and go to Monet's house and gardens. Go first thing in the morning, but we were quite surprised that after lunch the garden was dramatically emptier! Bring a picnic lunch or grab a sandwich at one of the bakeries in the village and you can walk down the quiet little street and stop at the Impressionist museum, too. But even if you left Paris for JUST Monet's house and gardens it would be worth the trip. I feel like describing it would be inadequate and I've not posted photos of it because they just cannot convey the experience of walking through those gardens, and seeing Monet's paintings come to life. (If at all possible go see Musee de l'Orangerie FIRST to see the water lilies exhibit, then do Giverny.)
Okay, there you go – my utterly biased list of places to see. All are still very famous, of course, they just don't necessarily make the top 5 of Paris lists. I will also admit that each of these places I visited with loved ones that were eager to be there with me – I had prepped the kids with videos and photos and history and stories, or my friend who was introducing me to these places had done that for me. I imagine if you went with disinterested companions then you wouldn't get the full "WOW" factor that made each of these spots become forever immortalized as glorious, soul enriching, vivid memories for me. But, I hope you'll consider giving them a try. 😉
If you want/need any more details/tips re: any of these, just message me.