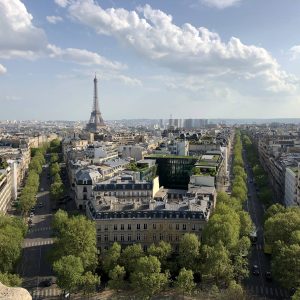 My first trip to Paris I was with a french club when I was 12 years old and we did the standard spots, which was enough to make me fall wildly in love with the city. While my parents were living just across the German border from France I was able to visit a few times more with friends & family, either by bus or driving but again – we mostly hit the highlights* tour. Kit and I visited with our firstborn & my husband's wish list to see was a palace, a cathedral, a museum. He didn't especially care which, as he likes to travel slow and meander as he feels so inclined. It was December, we had an active (running!) toddler, and it was cold so our trip was dictated by those parameters – but also so, so wonderful as I got to share a place I love with the person I love most.
* Highlight tours include Notre Dame, the Eiffel Tower, the Louvre, the Arc, and maybe a couple drive by spots like the Opera House or Sacre Coeur. Longer tours may include a day trip out to Versailles. Not that any of these spots don't deserve an entire day to themselves, but tour trips tend to be quick and cramming in lots.
When Ben's wish trips began I had a dream about Paris and when we had the opportunity to visit London we hopped the two hour train ride down to Paris with our kids. I was thrilled that they seemed to enjoy the city as much as I did, but it never feels like there's enough time to fit in everything I want to see. Since our move to the UK we've been very fortunate to make a couple more trips down and see things we hadn't on our first visit, and things new to me – like I hadn't been to Versailles yet! On one of those trips we had friends meet us there and bring me to places that were new to me, but some of her most favorite.
Then I saw a video online about a new exhibit in Paris and I knew I was going to find a way to see it. Fortunately that same friend also wanted to go and was up for an adventure so we met in Paris for four glorious days. (Paris at your own pace vs. Paris with children in tow is pretty significantly different, as you can imagine.) Once again my friend introduced me to new spots, which made them all the more special, and we were able to wander slowly and it was just amazing.
So, after however many trips that is I'm compiling my list of the spots in Paris that you must NOT miss… not that you should skip walking by Notre Dame (still beautiful after the fire) or the Louvre, but you know those spots and you'll no doubt fit them into your trip. These are the ones that you may not have considered that YOU NEED TO GO SEE. Continue reading "Completely Subjective Paris "Must See" List"