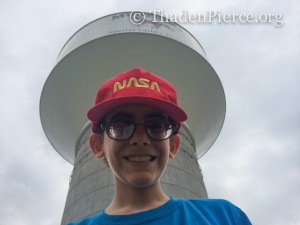 I admit that touring a water tower struck me as possibly the weirdest of Ben's wishes. A water tower?? Huh?? But apparently to a nine year old that was fascinating, we just had no idea how we could make that happen. Water towers tend to be surrounded by locked fences, and we weren't sure that they routinely host field trips! So you can imagine our surprise when we were contacted by Jennifer at the Mustang Special Utility District and she was offering Ben a tour!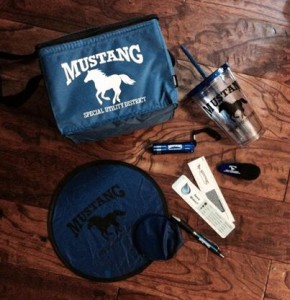 We drove out one afternoon to check out the office and the kids saw how the water levels are reported for each tower to the central office. They had lots of questions and were fascinated by the map. I think J, our five year old, wins for most entertaining inquiries! They also gave the kids some really fun goodies – I snitched one of those flashlights for my doula bag, and the cooler bags and cups are being used constantly. (Who knew utility districts had such fun swag, right?? Frisbies??) Then we drove down the road to the water tower itself – and it was huge, and I tried to NOT think about the fact that we were standing inside a water tower under this massive amount of water. The kids had lots more questions and they thought the echoing tower was way too much fun and Ben learned lots about how it all works.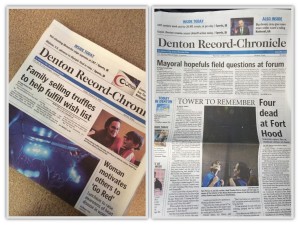 Jennifer & the Mustang folks had learned about us through the Denton Record Chronicle article in February and they invited the paper to come back out for a follow up story. Though I admit we were really surprised to see the kids made the front page again! Both stories were really sweet & well done and we're always happy to share Ben's amazing story. He's a pretty fantastic kid, and he's grateful that so many people have been helping make his wishes come true – however funny and random they may be! Thank you to John and David for the great article and you can read it here, see some more photos, and read J's funny questions about the towers. Thank you to Jennifer for providing all of these photos in the gallery, and thank you to all the folks at Mustang SUD!