* Disclaimer, you need an entire day to see the WB Studio Tour. The studio is on the outskirts of London, you can take the underground out to Euston but then switch to the overground to get to Watford Junction (about 40 minutes from central London), then hop off and catch the shuttle bus (every 20 minutes, takes 15 minutes, does have a fee and I cannot remember if they take cards or you need cash.) Make a day for that if you've got any hardcore fans with you! They do have family tickets, which can save you a bit. The shop at the end of the tour is HUGE, and if you arrive early you can go in there to browse. You are given a set "tour" time that's not flexible, but once you get past that initial bit then you are free to explore the rest, which is self guided, until they close. (They said they do have people stay for the entire day and they have to kick them out at closing.)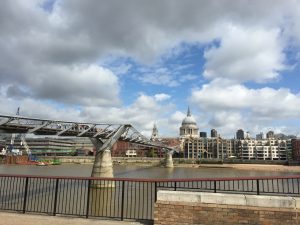 * If you book a billion years in advance, get tickets to The Cursed Child! It's in two parts, an afternoon matinee then you return for an evening showing for the second half. I hear it's amazing, but NOT for little ones as it gets intense with some flying dementors.
* Millenium Bridge is fun to walk across if you don't have little ones panicking about it being attacked by dementors like in the movie. Look both directions along the Thames and you can see where they flew on their broomsticks up the river. This is right by the Globe, Tate Modern (free entry), and St. Paul's Cathedral.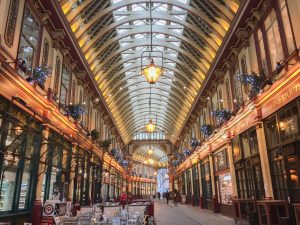 * Leadenhall Market is Diagon Alley, and has a fun shop kids (or adults) will love called Flying Tiger that you must stop in for a fun souvenir. Not Harry Potter related but while you are here, walk down to St. Dunstan in the East because it's a beautiful little spot that seems hidden from the noise of the city – a bombed church shell turned into a garden. From here it's an easy walk to the river, just a bit west of the Tower of London.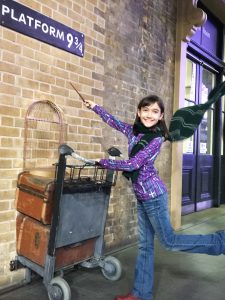 * Platform 9 3/4 inside Kings Cross station has a trolley going through the wall and you can pose (for free) for a photo, including props and they'll toss your scarf up into the air or give you posing ideas. There is a photographer there but you're also welcome to take your own pictures. Then you can step inside the shop (it gets crowded, don't try taking large luggage or strollers inside) to see souvenirs we've not seen anywhere else! You can purchase your photo there along with a Hogwarts letter, should you so desire – it's completely no pressure, you don't even have to set foot in the shop. However, depending on time of year and time of day the line can be at least an hour to wait your turn. If you're doing the Harry Potter studio tour then you may want to skip the picture here at King's Cross, as the studio tour has multiple photo opp spots of this same set up minus the huge line.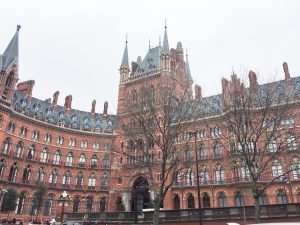 * Literally across the street is St. Pancras which they used as the outside of Kings Cross even though it's a different train station entirely. It is prettier. Just across from St. Pancras is the British Museum, which has an archive room walk through. The collection rotates, but if you want to see things like the Magna Carta or Jane Austen's writing desk or Beatle's scribbled rough notes of their song lyrics then you should go by. It's free, but you cannot take any bags in larger than a small carryon suitcase so while it's next to the train station (which heads to the airport) you can't just pop in here coming/going if you've got large luggage.
* There are other spots from the film like Tower Bridge, Westminster Underground Station, Scotland Place, or Picadilly Circus that are just quickly shown in the film and you may as well go by as they are fun for your standard London tourist photos. (Picadilly Circus is really not exciting so you can skip that.)  Big Ben is covered for the foreseeable future so it's not a good photo spot, I suggest instead people be sure to go by Tower Bridge for your iconic London shot.  Other spots that we've not bothered to go by that are in the films – Lambeth Bridge, Borough Market, Australia House, Claremont Square, or the Reptile House in the London Zoo.
A spot on our list that we've not visited yet, there is a gallery with art work from the movies around the corner from The Cursed Child theater –  The House of Mina Lima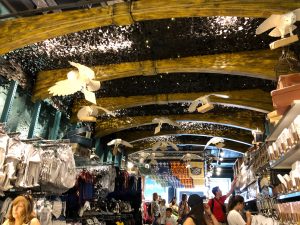 * For very inexpensive souvenirs, take the Underground to the Tottenham Court Road stop and enter the Primark on the side by Burger King (not the main entrance off Oxford Street.) The stock rotates through but it always has fun stuff – shirts, socks, pens, wands, bags.  The shop itself is also decorated and really cute, with flying owls and house banners (if you want some London specific souvenirs they have a section for that as well, up one floor.)
Do not actually walk this, use the bus or underground – but to give you a scale, Platform 9 3/4 is north, Tower Bridge is east, House of Mina/Cursed Child is west.