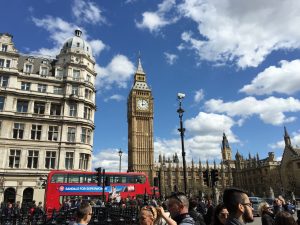 It can take a bit of adjustment, but the London public transport system is fantastic. (Okay, so I'm comparing it to some cities where we did not have positive impressions of their undergrounds, but still – it's relatively clean, well organized, and you can find attendants!) 🙂
There are options for visitor passes (Travelcards), but we've always found the Oyster card to be a better deal for us for kids. (For adults we use contactless – Apple watch, iPhone, or any credit or debit card set up for contactless works.) Here are some links to see all they have to offer:
Oyster Card if you've already arrived. Go to any machine and it will talk you through the process to purchase the card right there. You can also get a visitor Oyster card mailed to you if you want it set up before you land – Visitor Oyster Card. You will pay postage to mail it to you, but it's otherwise the same price as buying it locally. There is a £5 deposit that you can get back if you turn it back in. Everyone 11 years and up would need their own Oyster card.
Oyster cards cap your daily travel fee automatically, as do contactless cards. Be aware that if you use your watch OR phone OR card then you cannot switch between them when tapping in/out or you're starting a new daily cap – even if they're set up to the same debit/credit card. You must continue using the same device/card throughout the day.
Zone 1 is where almost all the tourist stuff is, though you can travel through Zone 1 and Zone 2 for the same price. (Harry Potter studios and the airports are exceptions for when you'll travel into further out zones.) Here's info on the daily cap, the most you will pay for riding however much you want in those set zones – Daily Caps. Underground rides are more than buses, so if you only ride buses your daily cap is lower. AND, remember that kids 15 and under are free on buses, but 11+ pays for the underground. The bus routes are slower than the underground, but in exchange for the leisurely journey you do get the views of the city.
Travel with kids in London info is on this site. Currently kids 10 and under are free on buses and underground, there's a wide gate at the entrance points for the underground where an attendant will let your kids through while the adults scan their cards. Kids 15 and under are free on buses, half price on underground. Kids 16-17 are half price on bus and underground. Confused? I know… Just remember 10 and under always free, 15 and under pay for underground but NOT bus, 16 and up pay for everything.
To get the half price for 11-17 year olds you need to have their Oyster card set up as a "youth" discount, which can be done by an attendant at the automated machines in the underground stations (including at the airport and train station underground connections.) Just ask the attendant and they'll ask how long you're in the city, they can only do the discount for 2 weeks at a time.
An alternative to the Oyster card is using any contactless card/device you have for the same daily cap option. This can be done with an Apple watch, iPhone, or credit/debit card set up with contactless payments. You cannot set up youth discounts on contactless/devices which is why we keep Oyster cards for kids.
You must be careful to always tap in/out on the underground still (buses you only tap getting on, which you can do at the front, middle or rear doors of the bus.) Not tapping out can get you charged for a maximum price ticket for further zones or times than you traveled. Have your Oyster card or method of payment (card/watch/phone) ready both when you're walking into the station and exiting the underground, especially at rush hour. There are crowds and they are moving fast and you can cause a traffic jam (and not amuse people) if you stop things to dig for your card. To keep kids' cards safe as soon as we get past the turnstiles going into the underground I gather cards back up and disperse them again as we leave the underground. Remember also to stand on the RIGHT on escalators single file, as people on the left will be walking past you in a rush. Another safety tip, keep kids behind the yellow line on the platform and – of course – Mind the Gap. 😀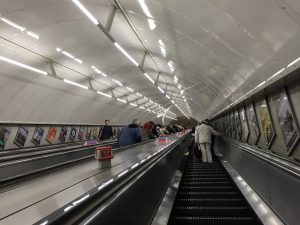 Heads up also – there can be quite a walk from the underground back up, or from one line to the other. Not all stations have lifts/elevators for strollers, not all have escalators (some are stairs only) and escalators can be CRAZY high, like several stories – in case you have little ones trepidatious about them, pick them up or hold hands and get them to step on BEFORE you do! Even bigger kids, don't assume they'll step on with you once they look up and see the height (or look down from up top) – ask me how I know. 😉
Airports each have their own public transport options into the city – depending on how fast and/or cheap you want your options (train, taxi, shuttle, underground if you're at Heathrow), they will generally land you at a train or underground station in central London. You can explore them on the airport sites:
Luton Airport (Northwest)
Gatwick Airport (South)
Heathrow Airport (West, and relatively central – can get into city by underground)
Stansted Airport (Northeast)
(There's also City Airport and Southend which I literally just learned about now so you're probably not flying into those internationally.)
Tube Map PDF if you want to check it out in advance. Remember you're probably staying inside the inner bit, Zone 1. Exceptions being Watford Junction (top left) for Harry Potter studios is Zone 8. Heathrow (bottom left) is Zone 6.
You can download the TfL (Transport for London) app for your phone in advance and it's very handy! There is a separate app for their buses, which you will definitely want as bus routes are much more complicated (and plentiful) than the underground routes.
There are plenty of open top tourist bus options, but you can catch a really fun little "tour" of major London spots on their city buses for a standard fee, instead of the special tour ticket buses. Here are some of those routes – Top 3 London City Bus Routes.
Enjoy!!